CWU CONDEMNS FURTHER DESTRUCTION OF THE CROWN OFFICE NETWORK AMD THE LOSS OF APPROXIMATELY 700 JOBS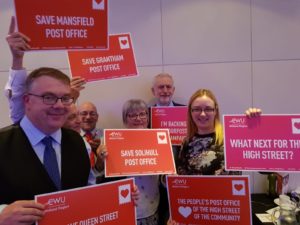 Our members working in Crown Offices have received the devastating news that 74 Crowns will be franchised to WHSmith.  This announcement coincided with the WHSmith annual financial results announced to the Stock Exchange.
The further link up with WHSmith will result in the loss of approximately 700 jobs, although this could be greater depending on the size of the Crowns.  To put this into context, 74 Crowns equates to roughly 30% of the current Crown network, so this is a massive attack on our members' jobs.
Within the Midlands the impacted Crowns are Grantham, Mansfield, Nottingham (Queen Street) and Solihull.
The CWU will be holding a National Campaign Day on the 1st December to make the public aware of the decline of their service in the local community, in the Midlands we will be outside the following Post Offices
Solihull Post Office between 09:00 – 10:30
Queen Street Post Office, Nottingham between 12:00 – 14:00
We will also be holding a public meeting in Solihull at the Royal British Legion Club, 18 Union Rd, B91 3DH  on the 7th December at 6pm.
It would be great to see support for the campaign by coming along to one of the above events and signing the petition or alternatively you can show support on the 1st December by tweeting and using the hashtag #SaveOurPostOffice @midlandregion
Posted: 22nd November 2018